Simien Mountains National Park – No bullshit guide and a travel log
In christmas 2014, I made a four day trip to Simien Mountains in Northern Ethiopia. The goal was to reach Ras Dejen, the highest peak in the country, but due to pressure from travel companions as well as practicalities, I ended up settling for summiting Bwahit instead, spending four days and three nights on a Debark-Sankaber-Geech-Chennek trek. When planning for the trip, I received a lot of incomplete or outright false information so I feel the need to publish the things that I would have liked to see back when I was planning my trip.
Below, I will give my take on what did I do on my tour to the Simiens, what worked well and what did not, what equipment I took and what I should have taken. I hope that this will be of use to the travellers following in my footsteps. I will do my best to describe my fitness level, distances, and everything as specifically and quantifiably as I can to avoid vague and useless statements like "Very fit" and "Extremely cold". Should you find a factual error, dead link or something else worth commenting, please email me and I will do my best to set the record straight.
Contents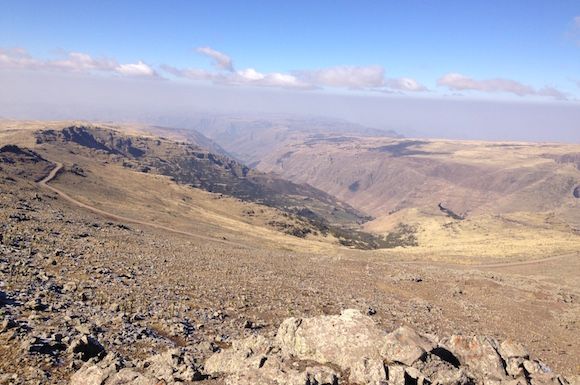 Tour organizers
The most popular way of traveling seems to be with an organized tour. The park regulations dictate that you need to have a scout accompanying you during your hike. On an organized tour you get some extra services for increased cost: Cook, Mule(s), Muler(s), Guide, equipment and food. I was planning to go with the bare minimum, hiring only a scout and renting the equipment that I needed, but ended up taking the advice that an organized tour was necessary. Now, with hindsight, I have to say that this is truly not the case, although having a tour organizer made some travel arrangements easier.
During my two day stay in Gondar, I learned quickly that the streets of Gondar are full of all sorts of conmen and scammers trying to sell you a package deal. Contrary to what they claim, most of the people haggling you on the street actually do not have a tour agency. They just try to sell you a tour they have no idea of how to organize. If you show interenst, they will direct you to one of the many tour organizers in town and get a cut for bringing them customers. While it is certainly wise to cut off such middlemen, approaching a tour organizer directly does not, unfortunately, guarantee that you will not be screwed over. The first offer I got for a ride from Donbar to Chennek in the national park was 900 US Dollars for two persons, after asking around the price had dropped to 140 USD, so make sure not to take the first offer.
The tour organizers will most likely try to sell you the standard trek from Sankaber to Chennek, since that route is the most convenient for them. At least during the high season there are multiple groups staying at the same campsite, which means that the organizers can team up on the logistics and pocket a profit twice for the same amount of effort. When asking for alternate plans, most tour organizers will lie to you shamelessly to convince you that anything but the package deal they are offering will be exceedingly expensive and inconvenient. For example, they will tell you that a drop-off in Chennek will be very expensive since a special four-wheel drive is needed for that. Once on site, you'll see many RWD Toyota Hiace's that have made their way through the impossible passage and learn that the villages beyond Ras Dejen are serviced by a regular bus service. You will also hear that you will need to carry all your supplies including water with you and that the water in the park is not potable. Once in the park you will see the scouts happily drinking from the streams. I tried that too, without water purifier tablets, with no side effects. In addition to the streams and the drinking fountains at camp sites, there are wells from which to replenish your water supply, should you choose to organize your trip on your own terms. A few of the tour organizers even tried to convince me of the Bwahit summit having a snowcap year round which lead me to wonder if they had even ever been close to the peaks.
Whether you should go on your own or use a tour organizer depends on a few factors. I try to list a few of the pros of having an organized tour:
The food is really good. If you are used to chugging Tuna from a can while on the move and forcing down MRE in a tent, you will be positively surprised.
The tours come with guide (that can be hired separately too) that will explain the local culture, flora and fauna, adding some value for your travel.
You can leave your stuff on the campsites and the mules will carry them to the next site, where you will find your tent readily erected before you arrive.
Even if you go alone, you will not be too independent. You are obliged to spend your nights on the campsites that are full of loud people anyways, so you might as well take the perks of traveling in a crowd.
Culture. Our guide Lij was kind enough to arrange a visit to the Gich village for a cup of traditional Ethiopian coffee. I am generally very skeptical towards this kind of stuff. I feared that the traditional coffee ceremony was just another made up tradition put in place just to show off to the tourists. However, the ceremony consisted mainly of a village dweller preparing the coffee in what seemed to be the proper Ethiopian way as far as I could tell. I got the impression that the visit to the village was really authentic and gave a peek into the way the locals live in the mountains.
There are a few factors that speak in favor of self-organized travel too:
The trips between the campsites are relatively short for amoderately fit person. Unless you are trying to cover two nominal days worth of trekking in one day, you will be perfectly able to carry your own stuff to the next camp. Underneath every steep ascent there will be a few local mule owners trying to lure in Lazy, Ill-Shaped and comfort-seeking travellers to use their services. In case you feel exhausted, you will not be alone. I found that the distances quoted in hours by the guides often included generous breaks. At no point of the travel did I feel rushed and apart from the last day, there was no real effort to leave the campsite at the break of dawn. Likewise, our group reached all the camps well before sunset, leaving us plenty of time to ventilate our kit in the evening sun.
The mornings tended to consist mostly of general goofing around while waiting for the breakfast or the signal to go. Likewise, in the evenings, there was some boredom after reaching the campsite and waiting for food. I dare to say that I would have prepared food for myself in a Trangia hours faster than the cooks did, although that food would have paled in comparison to the treat they prepared.
Price. Needless to say, traveling without a guide and a mule man will be considerably cheaper than traveling with them.
Traveling in a group of random people. I was extremely lucky to land in a group of pleasant people that had similar mindset and comparable fitness level to mine. Four of the five people in my group spoke either native or fluent English and since we had a Spanish speaker in the group, I did not feel like the communication with the fifth member of our group was much of a hurdle to cross. It could have been way worse, I could have landed in a group of obnoxiously loud Americans whose vocabulary consists mainly of "Like" and "You know", or shared my trip surrounded in an awkward silence with people whom don't share a common language with me. So thanks, Grace, Elizabeth, Ian, and Itor, you made this pleasant for me. On a side note, Elizabeth mentioned something about writing a blog post on Ethiopia too. If you are not happy with this account and would like to read something written by a true professional, stay tuned.
The park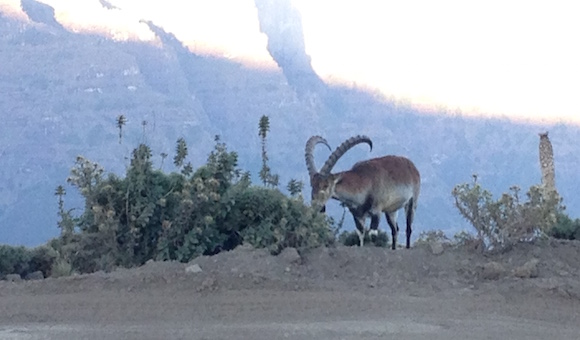 The park is a pleasant sight and there are a few animals that you can spot there. In terms of the number of species, you can probably go to a nicer park, but I have not been to a place where I could see the animals as close as in the Simiens.
In addition to the ones I managed to spot, there are many others that I might have seen. Walking around the grassy highlands, one could also spot flattened grass left behind by antelopes lying around as well as hoof marks resulting from their eating habits. I can only speculate what kind of creature left all these tracks behind. Simienmountains.org is a good reference for all the animals you might come across.
In addition to the animals, the fauna is very diverse and climbing from the valley to the peak, one will see many zones of vegetation ranging from tropical woodlands to dry and arid grasslands. There are many opportunities to gaze down from the edge of an escarpment and to see all these zones of vegetation at once.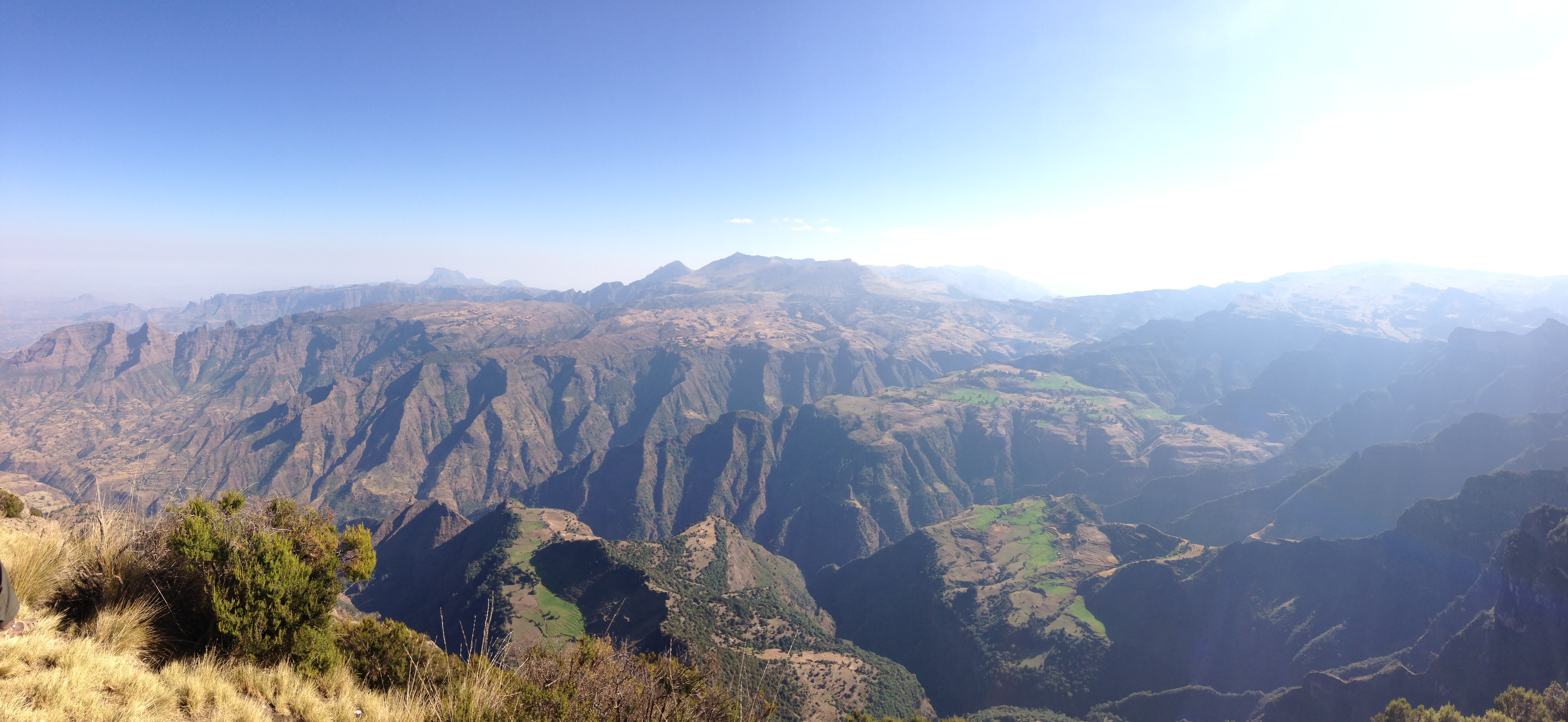 Many websites (see, for example here, here, here, and here) will warn you that the terrain and climate are harsh, which is true to some extent. I, however, find that these claims are a bit exaggerated. At the time of the hike, I could probably not exceed 2800 meters in a Cooper test and if someone asked me to do ten pull-ups, I would seriously struggle. Yet, the short distance between camping sites made it quite a pleasant walk even with a backpack, although some of the ascents made me truly breath heavily. Also a travel buddy of mine made it through without major hiccups, even though she was in even poorer a shape than me, not to speak of the tourists who made it through in a pair of Levi's carrying their stuff in a plastic bag and finishing their day off with tej. Only a few times did I feel the need to grip the rock by my hands and generally the path was well visible. If I had to take my pick, I would grade the hike as T1 or at most T2 on the SAC Scale , with the most technical bits of the hike being the path between Gich camp and Imet Gogo and the last bits of ascent to Bwahit.
Before the hike I had spent my time in Tropical climate at sea level, so I was really worried about the temperature of the mountains. The mercury did drop well below freezing point at high altitudes, but even with the modest equipment and only two days of acclimatization in Gondar I had, I found the climate surprisingly manageable.
Overall, the national park is quite thoroughly inhabited, with small villages of locals here and there,, and the kids trying to earn a bit of extra money selling handcrafts and souvenirs to the passers by. You really should not come to the park expecting true wilderness in the sense of not running into other people for days. This will, of course be an additional safety factor too. In case something goes wrong, you'll be able to find someone with a mule to haul you and your kit to safety with relative ease. This is neat given the lack of cell phone coverage especially in the valleys.
Being thoroughly inhabited and regularly hiked by tourists, the park is unfortunately quite dirty, especially around the dedicated campsites. The camp authorities have dug large waste pits in the ground and assumably a large amount of waste gets burned in the camp fires in the evenings. However, there is a lot of waste that gets sprinkled into the nature. Some of this is explained by the general carelessness of the hikers and guides, some by the fact that the abundant thick-billed ravens are keen on taking any trash and spreading it around.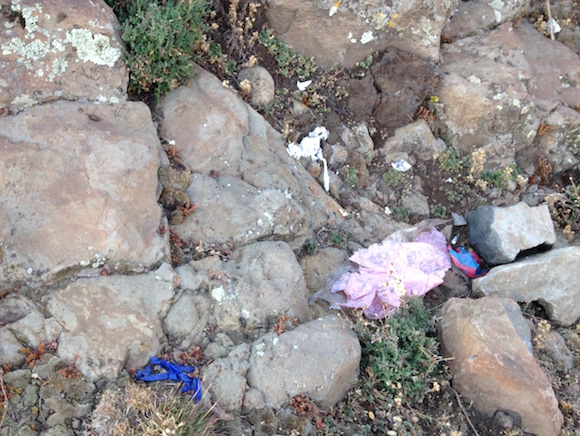 Equipment
Below is a list of items that I brought, as accurately reproduced as I remember. This might be a bit anal retentive in its detail, but hopefully this serves as a basis for your checklist.
Propper PolyCo RipStop BDU shorts. These turned out to be my primary outfit in the daytime as the sun was shining.
Propper PolyCo ACU trousers. My primary wear in the colder of times, contrary to my expectations, these were quite sufficient for the colder of times, even without a thermal base layer. In the mornings, the weather was still quite cold and I ended up leaving the campsites wearing the ACU trousers, switching to shorts around 9.00 in the morning. Perhaps a choice of zip-off trousers would have been a better choice to bring. Also, I learned quite soon to take off the kneepad inlets to stop excessive sweating. The cargo pockets of the ACU trousers are ridiculously large, which turned out to be a great asset when carrying spare socks, snacks and whatnot.
Haix Airpower P3s. My proven pair of footwear. In the park I noticed that, despite advice from here, and here to the contrary, I was wearing perhaps a bit too heavy boots. Lot of people did their hike in trail running shoes like these and ended up rotating their socks much more infrequently than me.
Tesema hot weather socks, coupled with cheapo cotton sports socks. This is how the Finnish Military marches these days. Say whatever you want about their crappy gear, but they got this one right. The purely synthetic Tesema socks wick moisture efficiently, transferring moisture to the cotton socks, which prevents blisters like a charm. I ended up keeping the same march socks through the day and rotating the cotton tube socks on top of them. I had four pairs of socks, which was unnecessarily much. For a trek like this, I found that 2+4 pairs of socks were enough.
Crocs, for goofing around in the campsite and for ventilating my boots. A nice pair of footwear but ended up taking a bit too much space in my rucksack.
Blanket, courtesy of Air Canada . I really did not need this, but this blanket made a nice backup and folded nicely into a pillow.
Nike rashie. The sun was really intense, and there was a need for covering up with a long-sleeved shirt that's not too heavy for sweating.
T-Shirt, Icebreaker.A nice shirt that wicks moisture efficiently. Like socks, I brought four of these. This turned out to be much more than needed. I could have got away with two or three.
Buff. I had four of these, which was probably one too many. I found that a buff coupled with a hooded jacket makes for good enough a cap for the coldness of the Simiens. During daytime, the sun is really intense and I ended up burning quite bad. At the end of the hike, I wore one around my neck around the day. It's a shame I realized to do this once it was already a bit too late.
Gloves, The North Face Power Stretch. Some gloves were indeed needed. Unfortunately, I cannot really recommend this brand, due to a total lack of quality control. I picked them up at a sports store in Jeddah a week before the hike and only wore them in the evenings, while just sitting around and ended up breaking a couple of seams. Please, boycott them.
Underwear, Under Armour. Cotton kills and luckily, these trunks have none. I got four pairs, which was a bit too luxurious for a trip like this. There will be plenty of opportunities to wash, if needed.
Thermal Base layer, North Face. A perfect match for the night time, especially when you are forced to wait around for the next thing to happen in a windy camp.
Sleeping bag, age old, Thinsulate, weighing a bit over kilo. With McKinley Silk Liner. I did not have time or the opportunity to get my own sleeping bag and ended up borrowing one from a friendŐs friend. Surprisingly, two decades old ill-fitted worn down synthetic sleeping bag with a cotton blend inner lining was enough to get me through the nights. In the mornings I woke up with frost on the surface of the bag, but slept surprisingly well. Actually, since I had such a small backpack and no compression bag, the main frustration was packing this sleeping bag, not sleeping in it.
Tent, Vaude Joker, from Mewket in L Shape hotel in Gondar. Cheap model from a reputable manufacturer, but poorly maintained and badly outdated. The aluminum frame busted once during the trip and the zippers were a constant pain to operate. Enough to get through the night, though, thankfully we did not run into extremely windy conditions.
Mattress. From Mewket too. When renting equipment, I assumed that a travel mat would mean a foldable or rollable one made of some foamy substance but no, these guys actually use thick foam rubber mattresses. Ok, if you haul your stuff with a mule, but I would not want to try to pack this into a rucksack. In case you are organizing your trip yourself, and plan to carry stuff on your own, I would recommend bringing your own mat.
Titanium Spork. Kicks serious butt in case you want to munch some protein from a tin can to boost up the high-carb gives-you-gas Ethiopian diet.
Waterproof North Face jacket with detachable fleece lining. I ended up not wearing the fleece lining at all, but I guess it was a nice thing to have as a backup.
Deuter futura pro 42. Proven and tested. Can fit four days worth of kit when overpacked, but I recommend a bigger backpack if you plan to carry everything on your person. I bought this as a compromise that can be still squeezed small enough to carry on an aeroplane.
Leatherman Charge Tti. For all kinds of stuff. Indispensable.
Small Sea to Summit lightweight towel. Totally worth it, when taking a dip in Jinbar Wenz .
Petzl Tikka2, a popular choice among travellers and a good, reliable pick with a lot of the flaws in the original Tikka model corrected. Due to the prevalence of this light, the campsites looked a lot like discotheques in the evening.
Matches, ended up not needing them, but just in case.
Toilet paper, necessity, not found in the mountains.
Tuna, chocolate. A welcome addition to the diet available.
BDU belt. A welcome addition, my advice is to bring either zip-on trousers or one belt for each pair of trousers you have to avoid hassle.
MilTec rain poncho. I don't think this was absolutely necessary, but a welcome backup that I used to patch up the tents into a more windproof form during the nights.
ParaCord, to hang sleeping bags outside to ventilate. Not really necessary but a nice addition to boost my Macho Man MacGyver Ego.
Ibuprofen, Loperamide and handwash. To stay safe...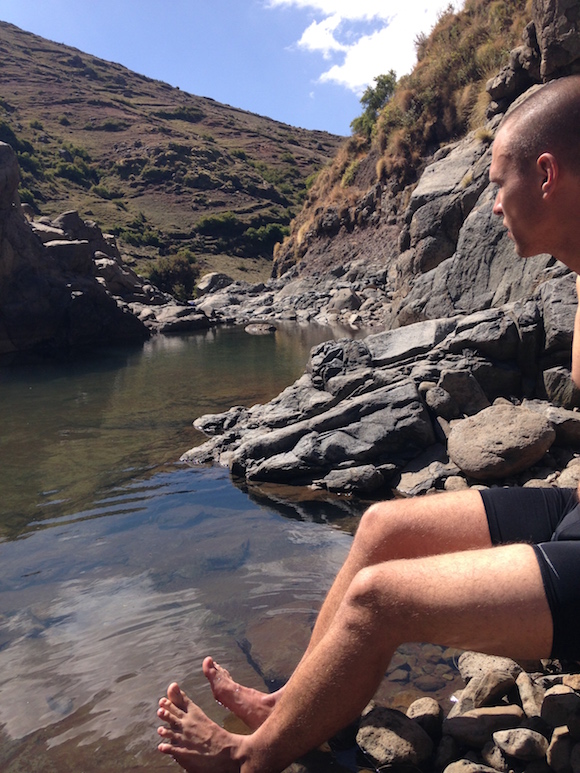 There are a few things that I did not have that I wish I had brought:
Earplugs to get sleep in the loud campsites
Sunscreen, this probably would have made a huge difference. At the time of writing, few days after the hike, my face is seriously flaking off.
Lip Balm. Like my face, also my lips are in a rather poor shape right now.
Decent GPS. I wanted to update the maps on osm.org but unfortunately I did not have enough battery to cover the whole trek in detail. I did update the map as much as possible for future trekkers, but largely based on scarce data and poor satellite imagery. Please pick up after me and keep the ball rolling. You may send me the .gpx trails of your trek later on if you don't want to do the dirty work yourself. For the ones willing to make use of the map in its current state, see, for example, maps.me .
A camera. Unfortunately, this narrative is accompanied by photos taken on my cell phone. Throughout the hike I was drooling over the folks carrying their L-series Tele lenses to capture the wildlife.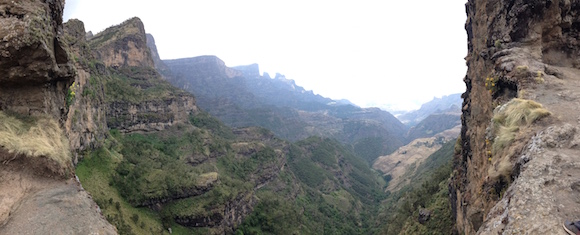 Links
Like said, the Ethiopian tour organization seems to work like an onion. In cocentric layers. Each additional layer adds to the cost and to the general level of bullshit. As uncomfortable as it might seem, my advice is to leave most of the arrangements to the last moment. We got scammed by an organizer at Dib Anbessa Hotel in Bahir Dar and when talking with other tourists, it appeared that the ones making advance bookings had done so at a considerable premium. Almost everything is available in Gondar or Debark. If you have the mental strength to deal with the tour operators, you can save hundreds of dollars. During my tour, I kept my eyes open for tour operators, below are links to a few tour operators and to other resources. I have no experience of some of them so do not take this as an endorsement and always ask for a competing offer.
This page was last updated on 6.1.2015