Miscellaneous notes about kayaking
This page contains some things from the summer 2009, when I kayaked much more often than in previous years. The purpose of this page is to maintain the nice memories I've gained on my kayaking trips, provide information for people planning similar trips and, above all, showing off. I hope you find some of these things helpful or at least amusing.
Most of the pictures are taken with a crappy pocket camera that I carry around with me just because I can afford to lose it so don't expect too much. Anyways, these things are just something that you must experience yourself so I strongly recommend you to shut down your computer and go outside.
Shortcuts
Kokemäenjoki: Intro, day 0, day 1, day 2, day 3, day 4, day 5, outro
Kokemäenjoki, Janakkala-Pori, August 2009
How it got started
Initially our plans were to take our kayak to Munich and paddle along rivers Isar and Danube to Vienna. Actually, we had been thinking about this for the whole summer or so. We had trained enough so that we thought it was possible, taken vacation and all. Suddenly it all came down to a disaster when we were notified that the airline couldn't transport my kayak.
We had already reserved places for the flights and assured that it was going to be okay but about a week before we would have taken the flight we were informed that such a transportation is just impossible for this specific airline. As we were unable to find a kayak for rent in Germany and had no other means of transportation we had to cancel our trip and do something in Finland instead. It was, frankly, a big disappointment to see how Munich-Passau-Linz-Vienna turned into Janakkala-Hämeenlinna-Nokia-Vammala-Pori but in the end this turned out to be a really pleasant experience.
Day 0, Janakkala-Miemala, 21 km
It turned out to be the most practical solution to take of from Janakkala. We packed our gear, which turned out to be quite a kayakful, during the day and left for Miemala late in the evening of Wednesday 19th of August. The first four kilometers from Kuotolanjärvi to Kernaalanjärvi were a bit tricky since the river was a bit too curly for a long two-seat kayak like mine. Perhaps it would have been a wiser choice to take off straight at Kernaalanjärvi or at Hyvikkälänjoki in order to avoid the curly part.
The way through Kernaalanjärvi and further downstream through Turenki to Miemala was quite easy in the calm evening as the sun set. As we later learned, it was precisely the evenings a bit before sunset that were really nice to paddle since the wind usually calms down at then. It was also nicer to paddle in a bit chillier weather than the direct sunlight we had most days.
Miraculously it wasn't that hard to find a proper camp site that close to Hämeenlinna, we set up our tent and had our first gunk-based meal before falling asleep.
Day 1, Miemala-Viiala, 56 km
This was our first true day that we spent kayaking. Our main goal was to get past the lake Vanajavesi and Hämeenlinna. We didn't quite know what to expect of ourselves so we were unable to set any specific goal, but it was clear that camping in the middle of Vanajavesi would be a bit tricky so we decided that we'd try to get past the whole big lake north of Hämeenlinna on the same day.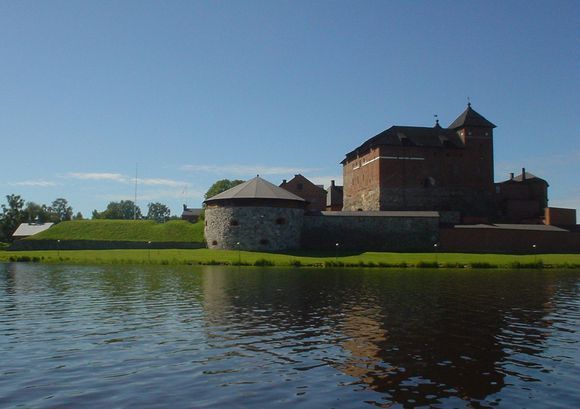 The weather was not far from perfect. Water was still and the sun shone on us the whole day, perhaps a little cloudiness would have been better in order to preserve drinking water. The region was pretty, we kayaked past the castle of Hämeenlinna, Aulanko and under so many nice bridges that I'm not going to put here pictures of all of them. The only flipside was the blue-green algae that were floating on the surface of Vanajavesi and made it not too tempting to take a dip in the water.
We hadn't taken into account the fact that the duck hunting season starts in Finland at noon, 20th of August each year. During the day we heard occasional shotgun fire and as the sun set we decided to turn on our headlamps so that we wouldn't get shot as we advanced quietly in the dark.
During the first day and a half our water reserves that was originally some 17 litres had shrunk so much that we decided to set up a camp in an island in front fo Viiala and go to Viiala for water refill next thing in the morning. The night was so light that there was some occasional shotgun fire nearby but this didn't really keep us awake after some nine hours of paddling.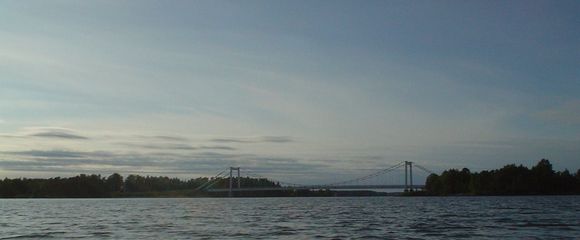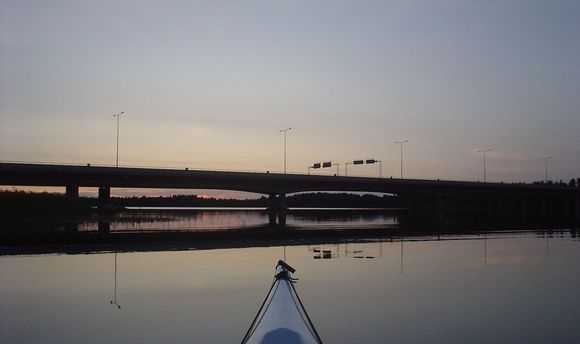 Day 2, Viiala-Kulju, 52 km
The second day was pretty much like the first one. We knew that paddling distances near 50 km a day would not be a problem and we decided to set our goal somewhere past the city of Nokia. We decided that we could make it to Lempäälä with our water reserves and skipped the water refill in Viiala. We figured that this would save us time since we would have to stop at Lempäälä anyways for locks.
The Lempäälä locks was quite a experience for us. We hadn't gone into locks before so we didn't precisely know what to expect. The experience wasn't too extreme, finally the whole procedure reduced to: "Pull a lever, wait, paddle in, wait more, paddle out." After the locks we went to the docks of Lempäälä to find a water refill. The facilities there were surprisingly nice, we even got the luxury of a public lavatory right next to the shore.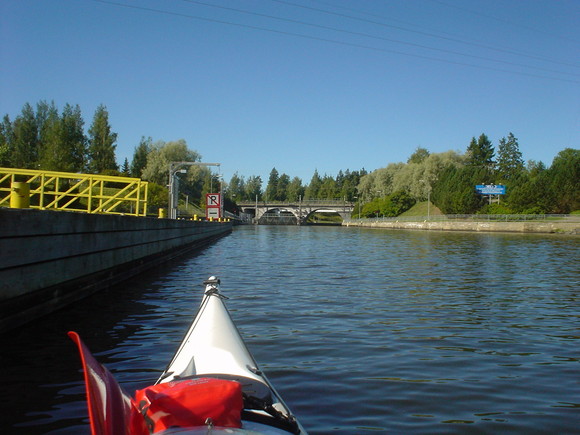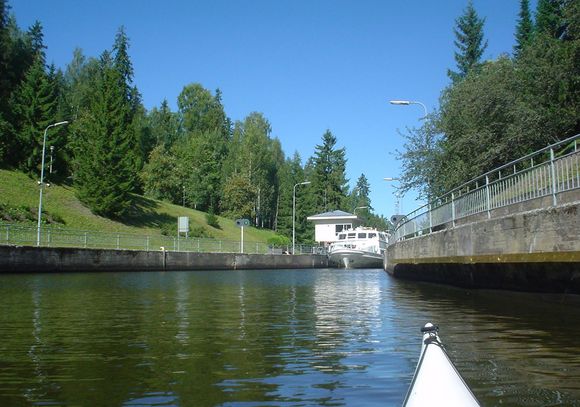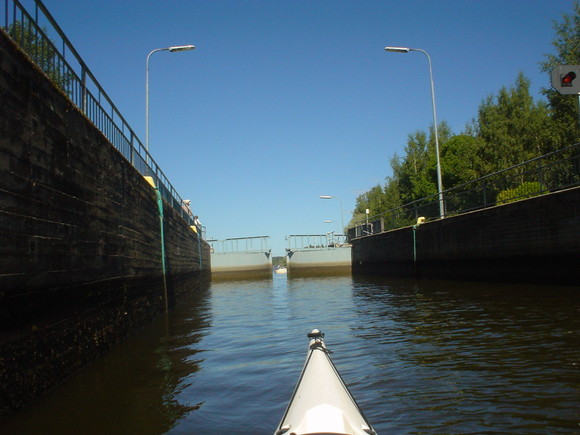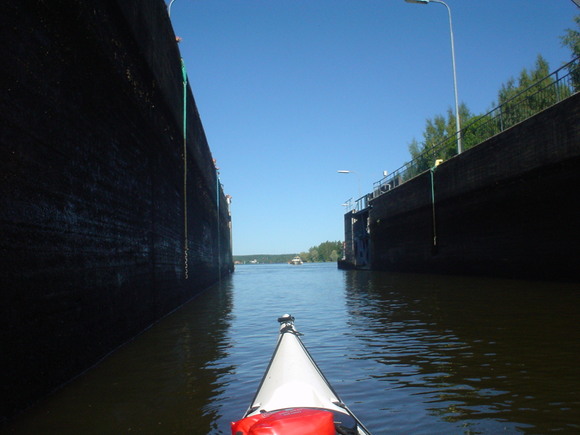 After Lempäälä we still had to cross Pyhäjärvi to Nokia. The weather was on our side since we didn't have to fight upwind or anything. For a while the wind was even on our back. The scenery in Pyhäjärvi is perhaps best characterised in a few words like: "Opening, strait, opening, strait..."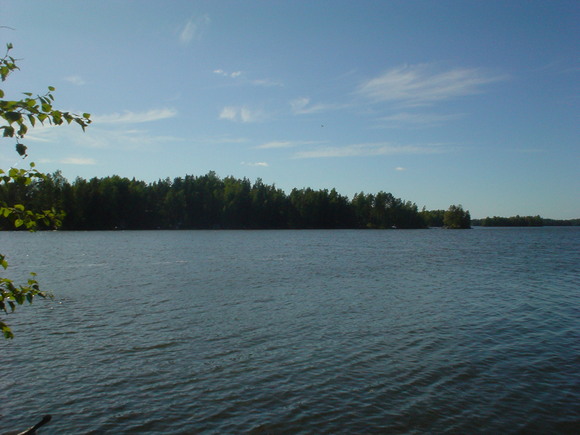 At Nokia we finally got into the river Kokemäki. We kind of expected much of the current and were a bit disappointed to see that there is no noticeable current in the river to make us go any faster. In the middle of Nokia there was even this warning sign scaring off people warning about dangerously strong current but there seemed to be no current whatsoever. Perhaps the warning sign is a bit more relevant in spring when the water level is higher.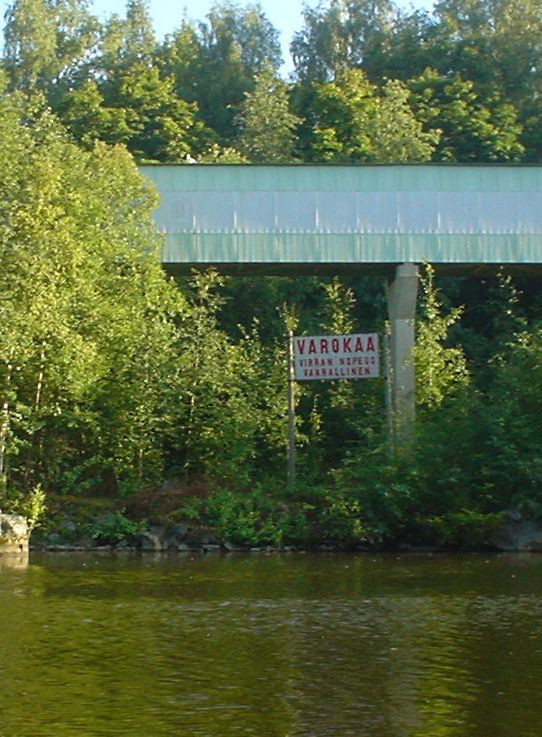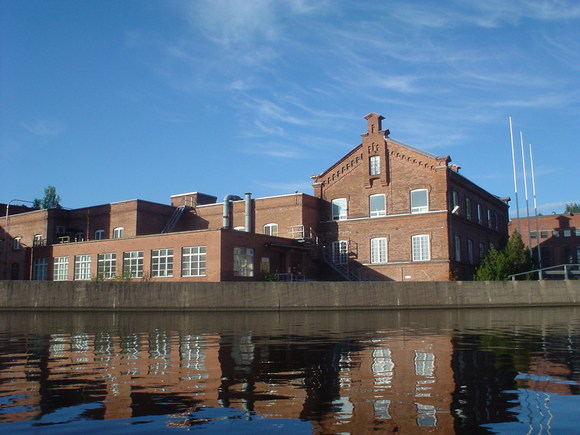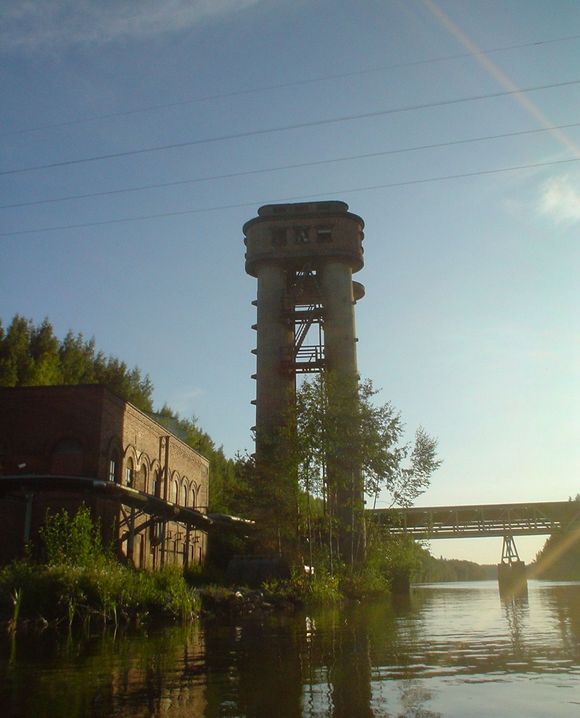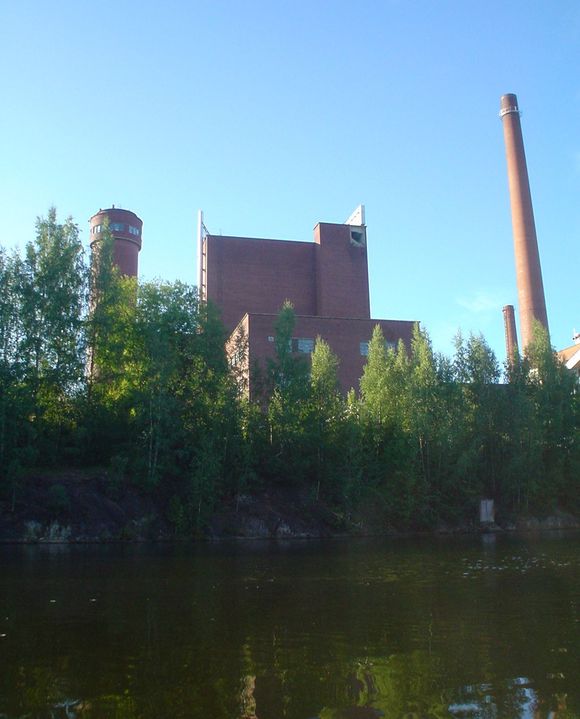 At Melo, a few kilometers downstream from Nokia we faced the first of five dams in Kokemäki river. There was a nice place to go ashore on the right bank of the river. (When I say right bank, I mean the one that is on your right hand side when you are facing downstream) There was a gate that was locked but fortunately it was so high that we could push the kayak on a trolley underneath it. Setting the kayak back into the stream turned out to be a bit more tricky. There is a road that is in good condition that leads to an island in the middle of the river right down from the dam. The tricky part is that the banks are quite steep. We decided that the best option is to lower our kayak into the water using some age old wooden rails in the island underneath the dam.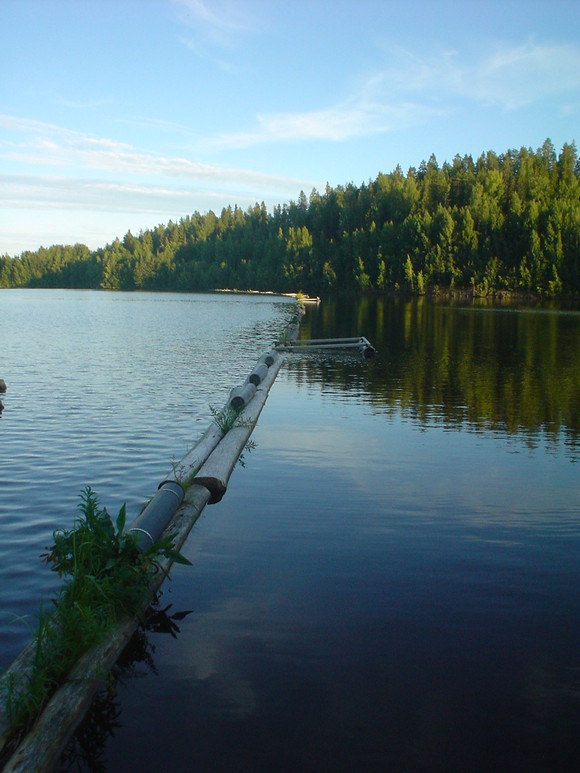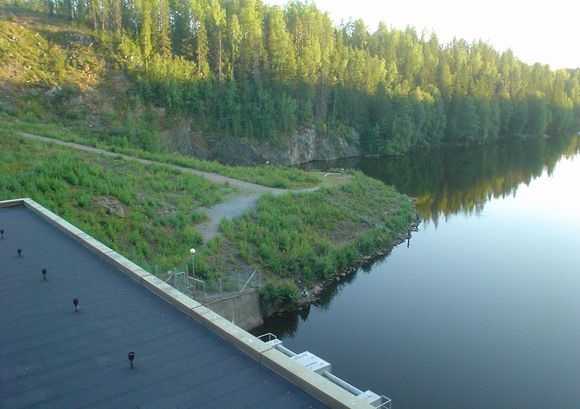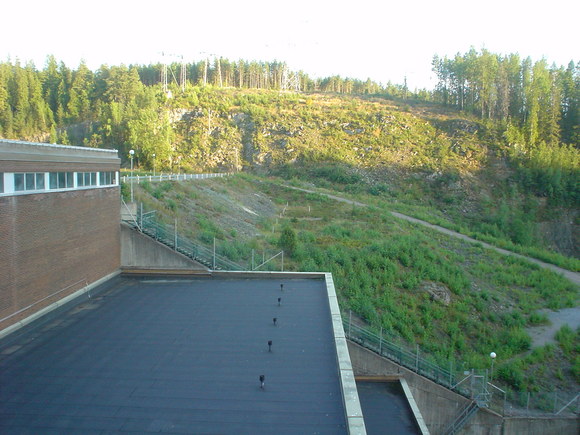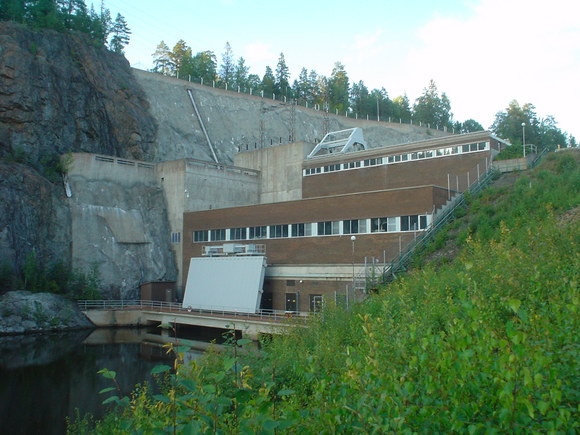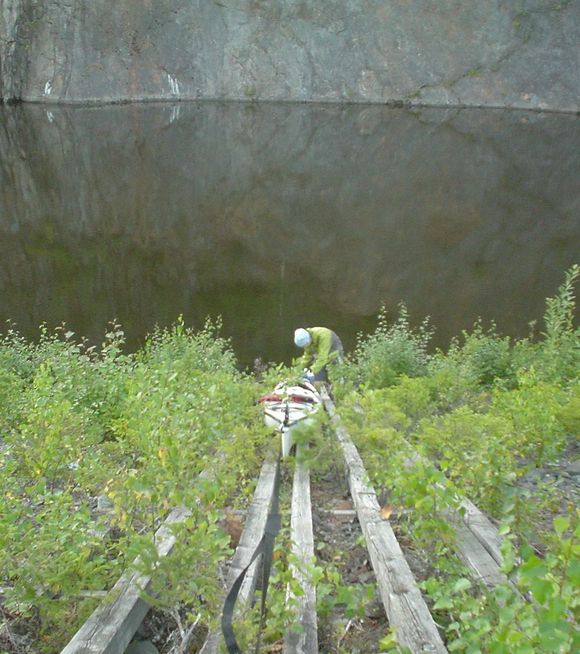 After Melo the next five to ten kilometers provided some amazing scenery. For a moment I felt that we could have skipped the boring parts and start our journey from Melo instead. There was even a few straits that had a stronger current, but mostly it was just paddling in still water, amazed of the landscape. We were so amazed of the scenery that the dark sort of caught us by surprise and we ended up looking for a camp site with our headlamps. Finally we found a somewhat proper island at Kulju. And just to avoid any misunderstandings, this Kulju I'm talking about has nothing to do with the one at Lempäälä.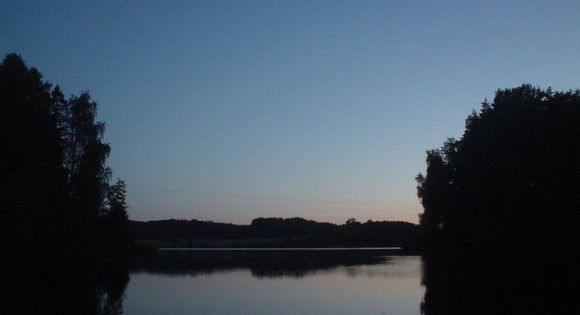 Day 3, Kulju-Huittinen, 59 km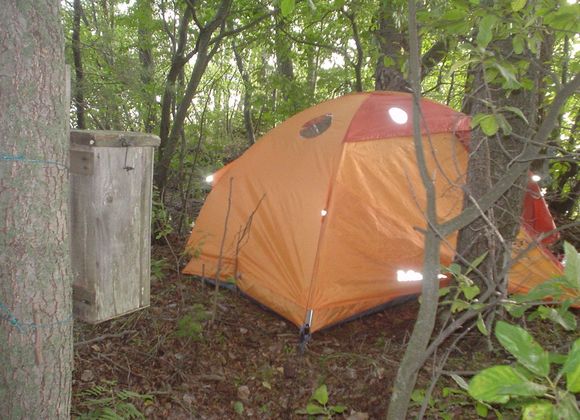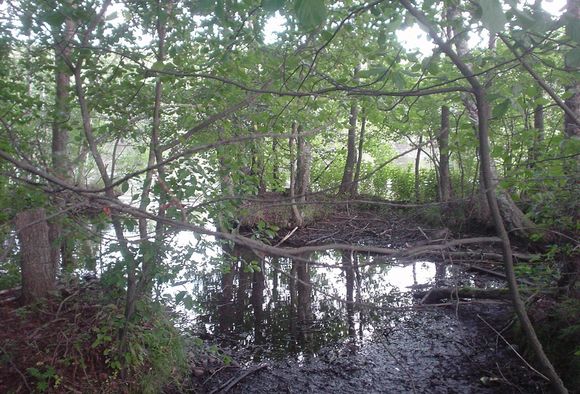 As we kayaked pretty much until it was too dark it was already midnight when we got some sleep so it was relatively late by the time we woke up again. Cooking some porridge for breakfast, packing up the tent, preparing some ready-to-eat stuff for the day and packing the kayak seemed to take its time so we set a goal to be off the shore at 10.00. We missed this by some 5 minutes and took off for Vammala.
The theme of the day was clear: to get past the last big lake, Rautavesi before Vammala. Before Rautavesi there were some smaller lakes and we paddled through some nice looking villages. We encountered something like thirty fishing boats, all fishing with something like twenty rods or something. For me this just seemed just ridiculous: if you can't pick the right lure, why not use all of them at once?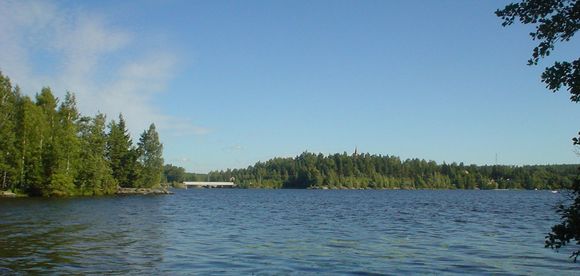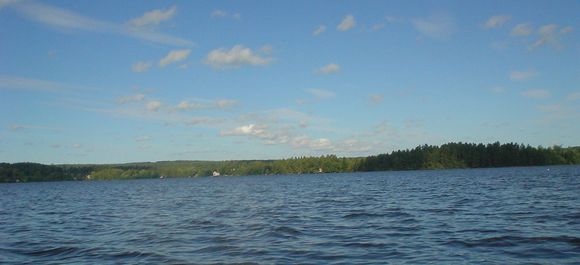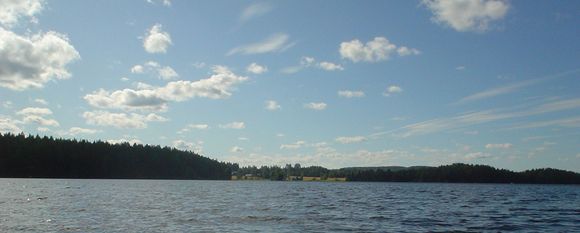 We had to fight the wind for the whole day and especially the last ten kilometres to Vammala were a bit agonising in the burning sunlight even though the waves washed the top of the kayak keeping me cool. Somehow, though we finally reached the second dam some 3 km from Vammala. The last part of our struggle was so hard that we decided to cook ourselves an extra warm meal at the dam.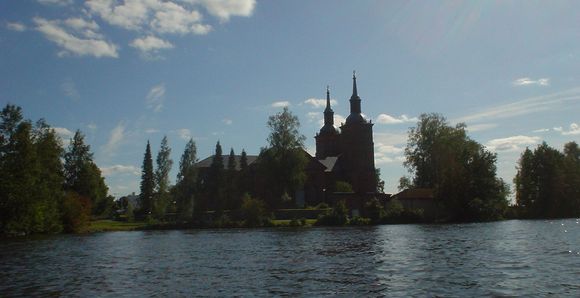 Passing the Tyrvää dam was not too hard, but consumed a bit time. We could lift off our kayak at the left bank and walk it across the dam and set it in the water some 200 metres downstream from the dam on the right side.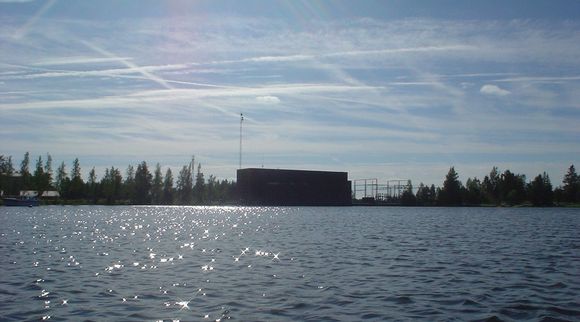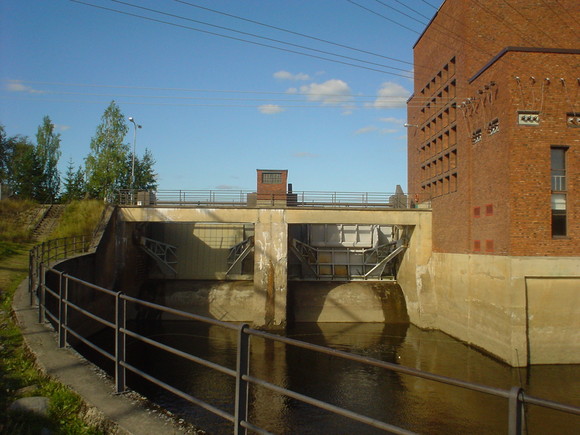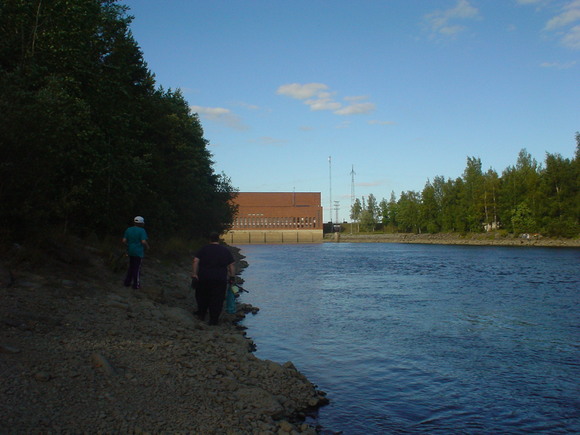 From the Tyrvää dam it was only some 10 km to Äetsä. On the way we faced our first surprise: Kilpikoski rapid. On our map there was a rapid here and there but most of the time they were something that we didn't even notice so we stopped caring about the rapids. Kilpikoski, however was one that we could notice but luckily it was so small that we could quite safely paddle right through it even though it initially looked a bit scary.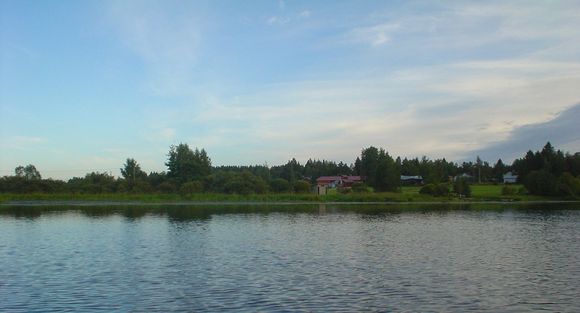 Once again there was no current to help us so it took something like two hours to reach the next dam at Äetsä. The Äetsä dam turned out to be a nice experience, there was an old industrial complex in the middle of the city featuring some nice brick buildings. Even the dam itself was a nice thing to see as the old dam had been conserved and the modern hydropower lied separately on the left bank. On our trip, this was the easiest dam to cross, we just lifted the kayak on the right bank just above the dam and there was a straight route for hauling the kayak on trolley. No annoying gates or anything, I think this is the one dam that you could pass easily even without a trolley.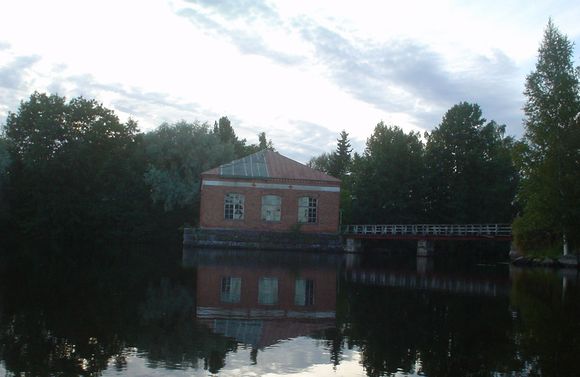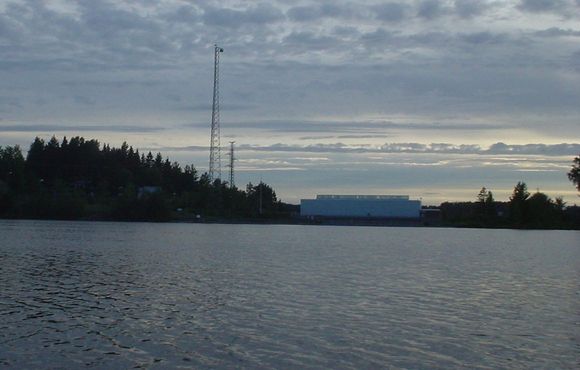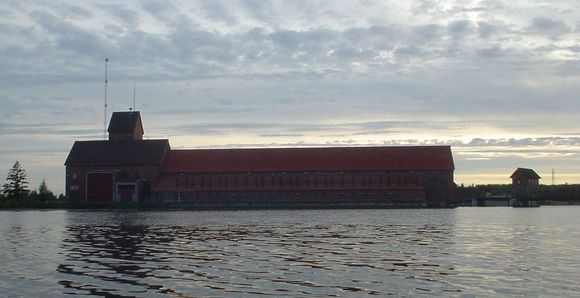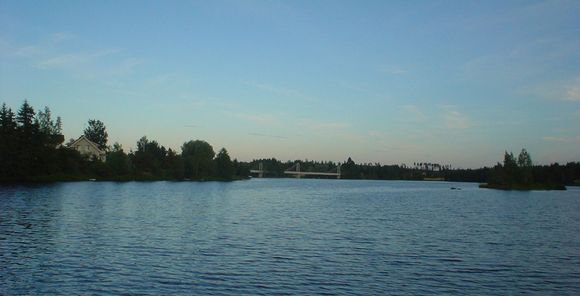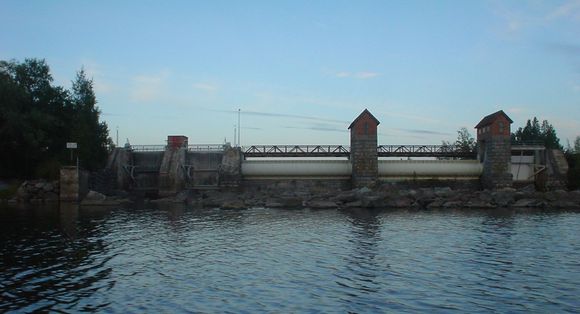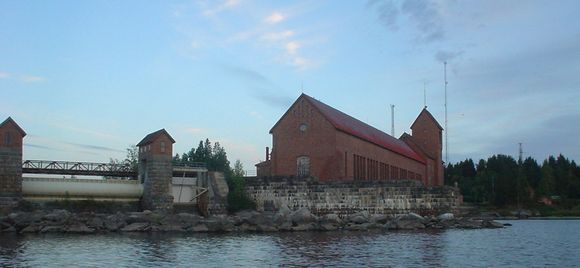 From Äetsä the scenery changed a bit, the landscape was more or less dominated by the fields and pig farms on both banks. At Äetsä we set our target at a public camp site at a National park a bit downstream from Huittinen. The sun, however, set faster than we had thought and we decided to give up the goal and find a camp site near Huittinen instead. This wasn't trivial since there was so much vegetation on the banks and most of the banks that weren't blocked by thick two meter tall grass seemed to have buildings in them already.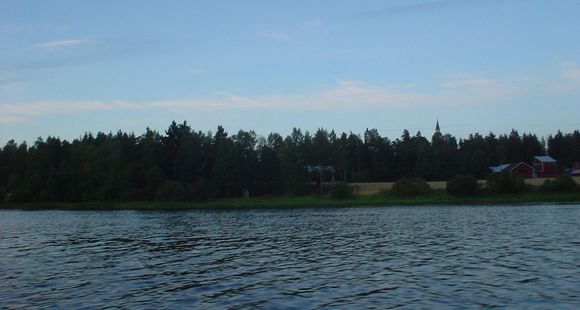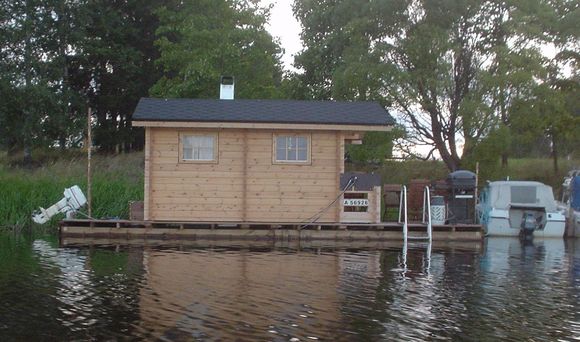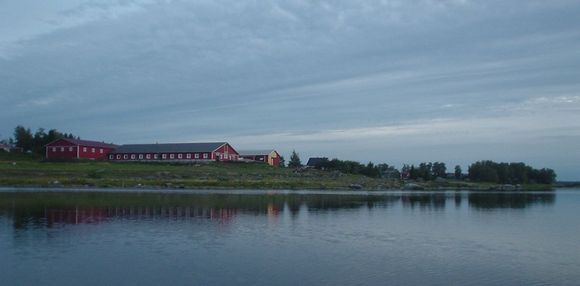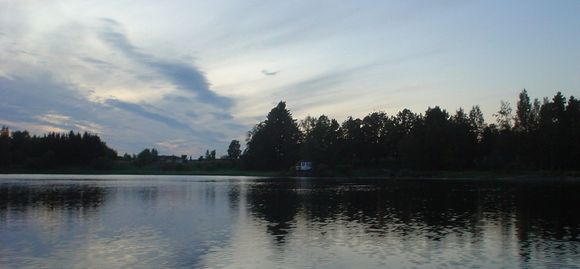 Day 4, Huittinen-Nakkila, 52 km
During the night it started raining. This didn't really keep us awake, but we were a bit afraid that it could start raining again, which could slow us down. We met some people and were told that it would start raining the next day. We were a bit anxious to get fast into Pori so we decided that we could get two birds with one stone by paddling through the following night. So we set our goal at Pori just to avoid the rain, and to prove ourselves that we're tough, of course. In retrospect, we were perhaps a bit too eager on this one as there were still two dams to go across and our empty water reserves to fill up.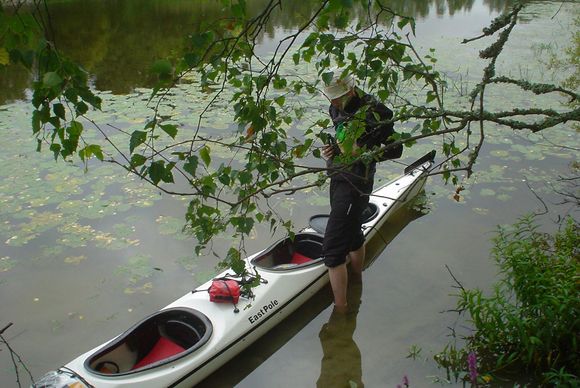 The first 25 km to Kokemäki were in a sense depressing. The river curls quite much before Kokemäki and we paddled something like 15 km that we could have avoided with a few kilometer walk but we felt that this was the wiser choice since it is always a hassle to lift up a kayak and put it back. And after all, we were there to kayak, not to walk a kayak. Besides, the scenery before Kokemäki was, in my opinion, really neat. There was even this nice area which seemed to serve as some kind of an outdoor museum. Please bear with me on these photos.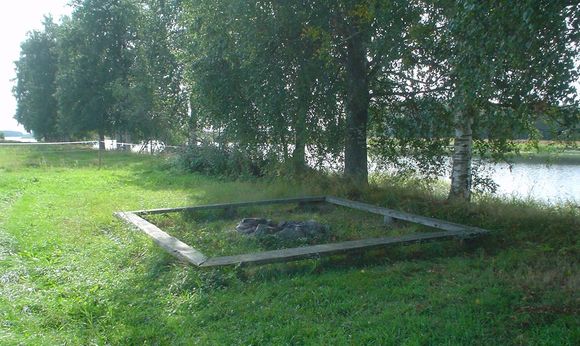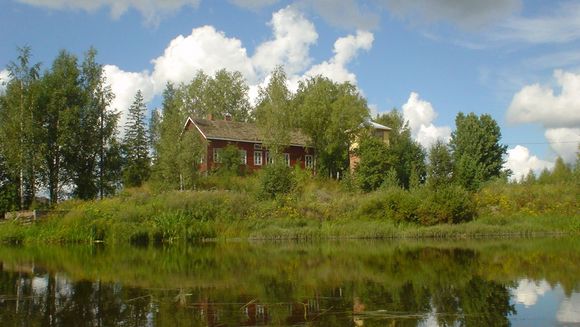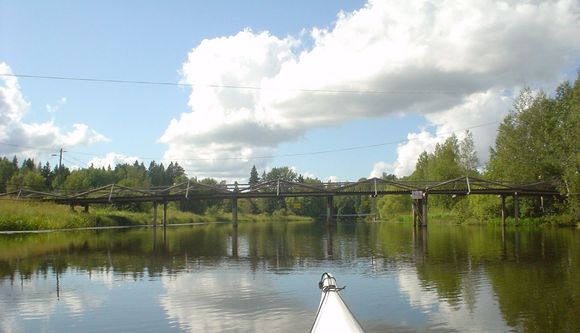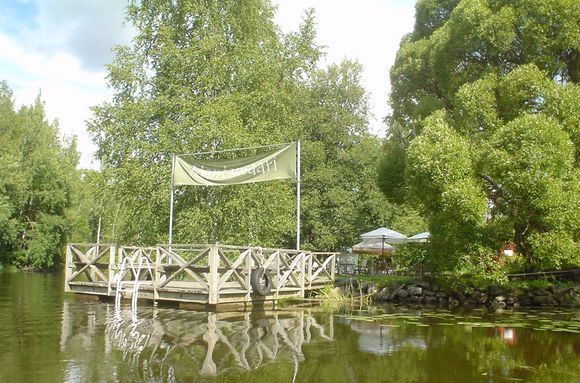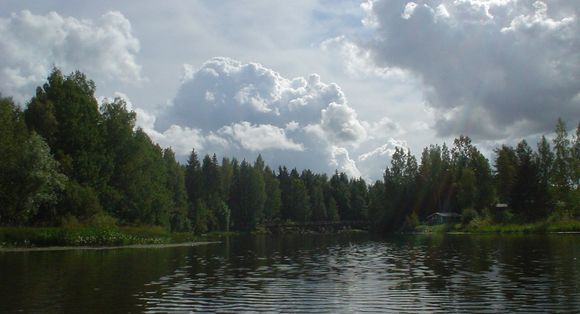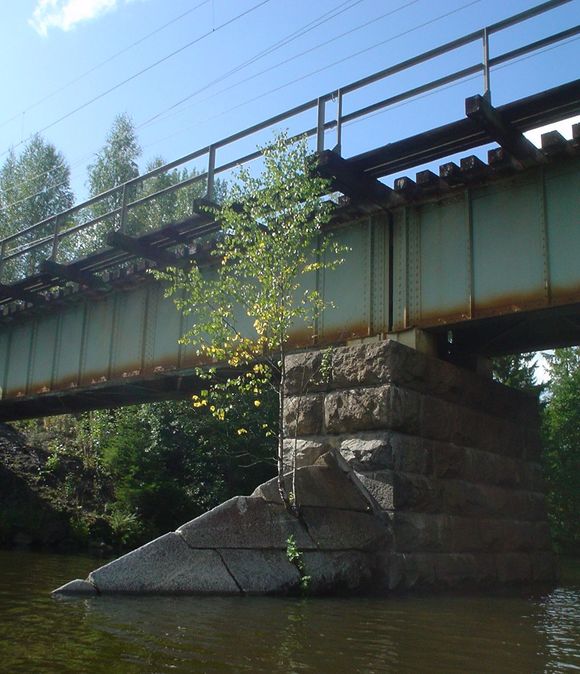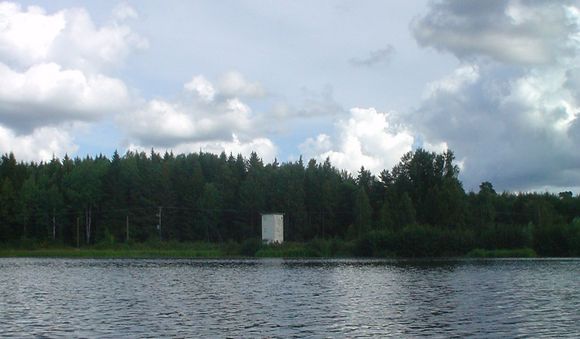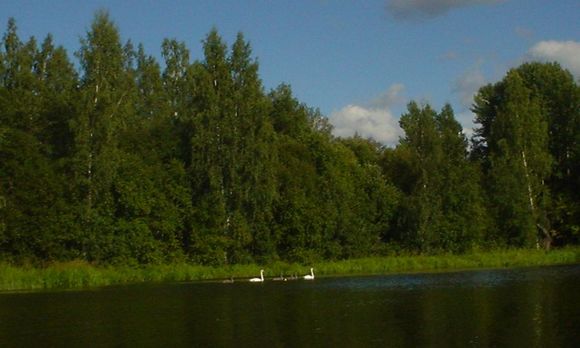 As we advanced downstream the people seemed to get more friendly and the dams more fiendish. The one at Kokemäki turned out to be more tricky than the ones before. We went ashore on the right bank, walked our kayak across the stream and back down in the stream some 200 meters downstream of the dam on the left bank of the stream.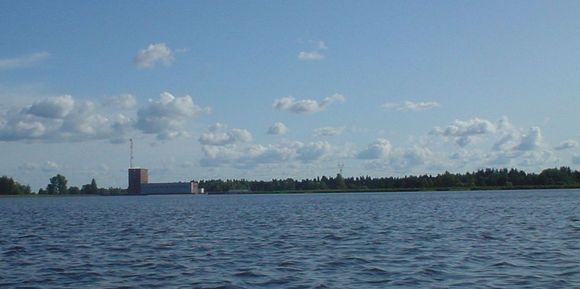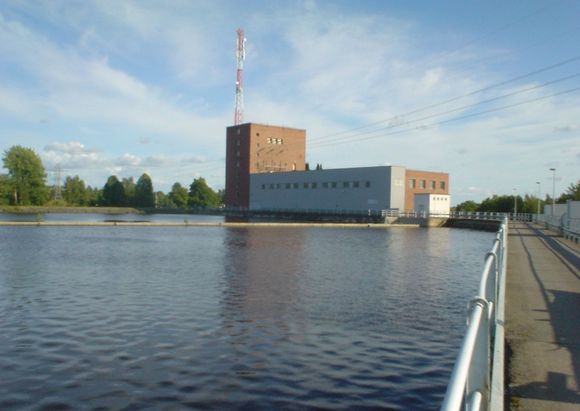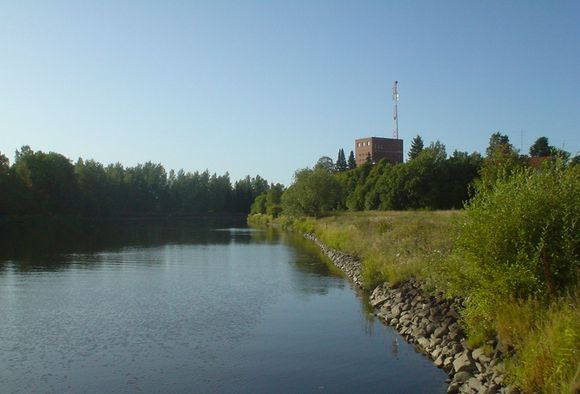 After the dam we stopped for a while at the town of Kokemäki to get more water. The town center turned out to be quite an experience, a few lunch diners, two banks, a Hotel, a church, two real estate agents, a veterinarian, police station, swimming hall, you name it, except for a grocery store, of course. So I had to walk quite a bit to reach some shopping center "nearby" that was clearly designed for the modern car owner.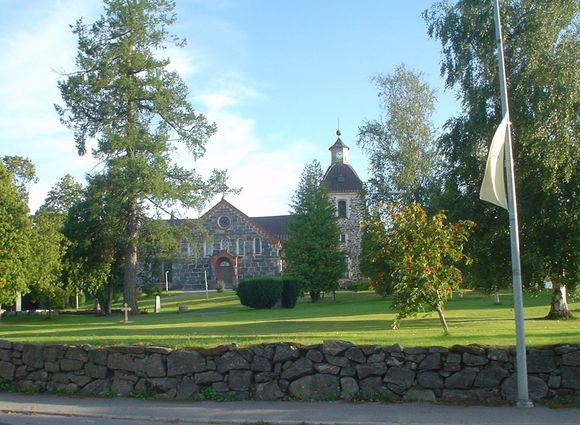 After a painful waiting there I finally got us some water and we were able to continue to Harjavalta. As we were paddling in the evening we were able to spot some mammals swimming in the stream, they were definitely larger than mink and we assumed that they must be either otters or beavers. We later learned that they were beavers, we should have known, since they made an impressive splash as they dived when we got too close. I also got a touch of the wildlife as a small fish jumped from the water to my lap and then straight back to the river just above Harjavalta dam.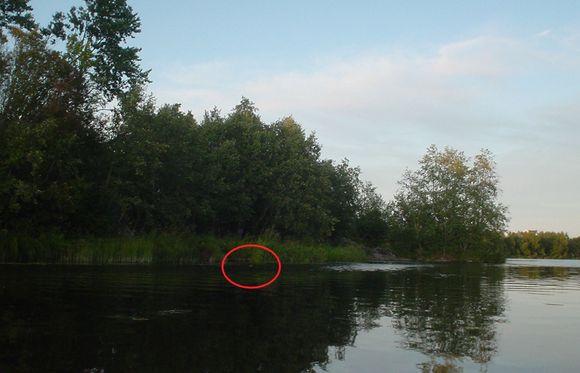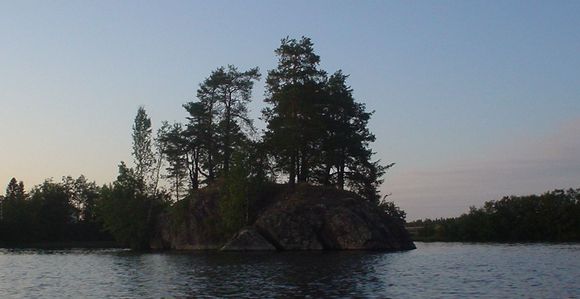 Due to the delay at Kokemäki and some beaver watching we were unfortunately unable to reach the dam in daylight. We landed on the left bank and lifted our kayak up. We decided to prepare a proper meal so that we would have enough energy to paddle through the night. As we cooked some food we realised that the night was going to be colder than we had ever assumed for a night in late August in southern Finland. We pretty much had all of our clothes on and the weather was really biting our morale. However, we decided that we were going to continue.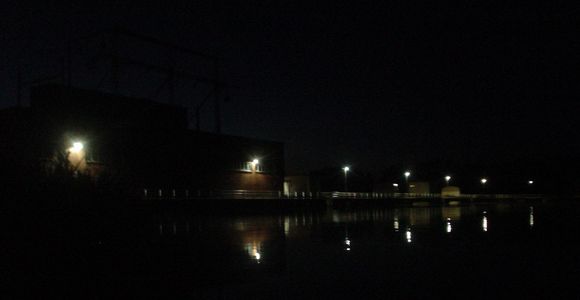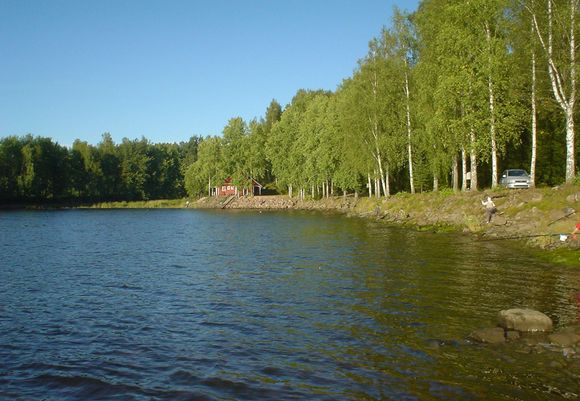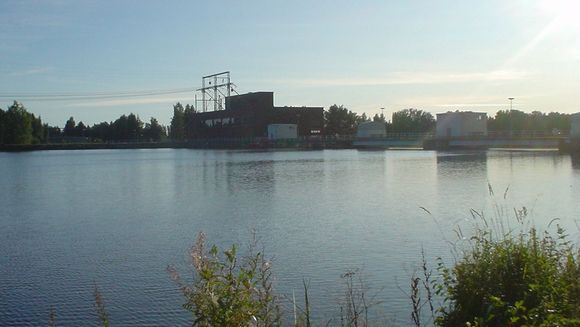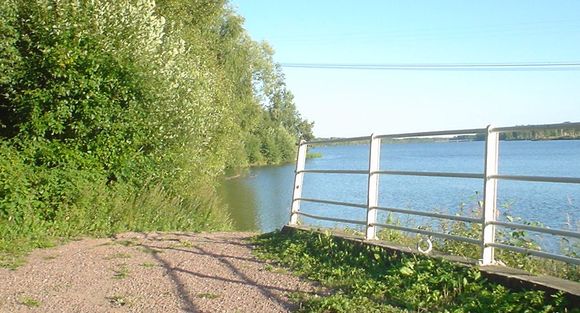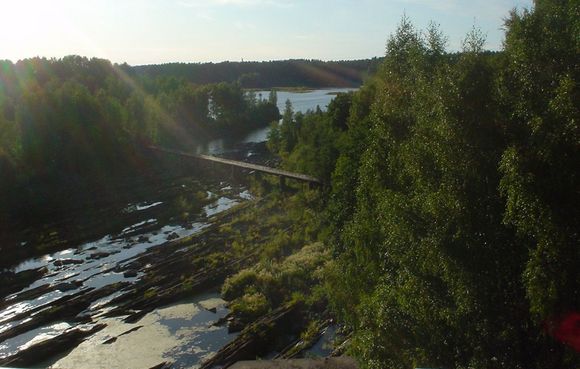 The power plant at Harjavalta is, nothing short of a total pain in the arse for someone with a kayak. We later learned that it would have been wiser to land at the right bank, but there was simply no good way to put the kayak back into the water. The least bad way to deal with the problem was to walk a great distance downstream on the left bank and lift the kayak over a closed gate finally reaching a place were one could put the kayak back on water.
The funny thing about the freezing temperature was that the water, however, was quite warm, somewhere around 20 degrees Celsius. As a result there was a thick mist floating above the water and we couldn't see small objects like rocks at all. Luckily we could see where the shore was since the trees seemed a bit darker than the sky. There were fishes and all sorts of other wildlife splashing in the water. We almost kayaked over a beaver a few times and as a result the beaver dived into safety with a massive splash right next to our kayak. The whole feeling was somehow spooky and exciting, totally something that you can't achieve by going kayaking on a broad daylight. I recommend this kind of adventure for anyone interested in observing wildlife and not afraid of dark and cold.
Shortly after Harjavalta we heard the sound of a rapid coming up. The visibility was practically zero, we had no idea what to expect and we were tired as hell. We managed to go ashore in a semi-controlled manner just above a rapid and after some recon decided to walk the kayak through. It really didn't seem like a nice thing to do to get your feet wet just as you've gotten yourself warm again. But now that I think of it, this is just the kind of thing that makes a trip interesting. You just have to go a bit out of your comfort zone. In a good way I mean.
During our trip we had passed quite a few "rapids": Emäkoski, Kyläkoski, Hartolankoski, Ruotsilankoski, Kiikkapäänkoski, Mieskalankoski, Pirjaskoski, Talankoski etc. (info for you non-finns: koski is Finnish for rapids) but all of them were just places named like that. Usually there was even no noticeable current but suddenly we were facing real rapids that you just cant neglect. We walked the kayak through a few of them and finally reached Nakkila. There the rapid seemed so nasty that we didn't even try to walk it through.
In a sense, we were poorly prepared. Our maps did not contain enough data about height differences so we had no clue of whether there was going to be more of the same kind of rapids. It was clear that at the pace we were advancing in the night we wouldn't get anywhere before dawn. The clock was about four in the morning so we decided to SMS some people to get additional data of the rapids downstream and decide in the daylight whether or not to continue.
Day 5, Nakkila-Pori, 22 km
In the morning we had slept some well deserved four hours or so and had gained some additional info. There should be only one significant rapid after the one at Nakkila. So as a result we decided that we would paddle all the way to Pori. In Nakkila we met some locals that told us that the current is quite weak in weekends and in the evenings but stronger during the weekdays. The power companies adjust the current based on the power consumption. This effect is clearly visible, in the morning the water started rising in the river and at Nakkila it rose almost a meter. The current got much stronger too, in contrast to basically no current we had been experiencing for the whole weekend.
We started to walk our kayak through the rapid. This is where things started to go not-quite-as-planned. Well, we started to walk our way through the current, we decided that would hold the tail of the kayak with a string and Antti would steer from the front. Well, Antti made the crucial mistake that once the kayak started unintentionally turning sideways he didn't just let go but tried to fight the current instead. You can all guess how well that turned out. I wasn't much smarter myself, as I saw the kayak turning sideways my instinctive response was to hold as tight as I could. In addition, I had wrapped the string around my wrists. I have to admit that I was no match for the tons of water flowing in the rapid. The string pulled me and I ended up doing an assisted somersault and diving right into the stream.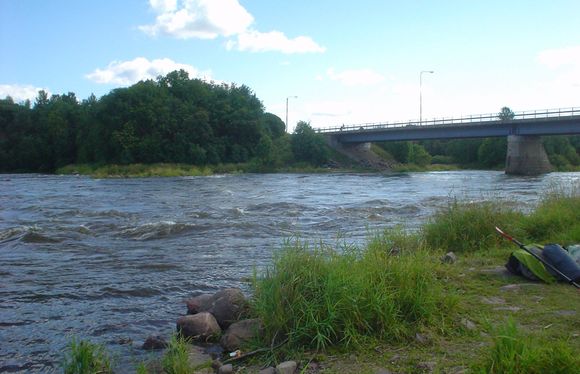 Luckily I managed to get my hand loose from the string and out of the stream. Only to take my clothes off and jump back in to swim the kayak back to shore before it gets too far. I didn't really see that one coming and I have to admit that normally I most likely would not dare to do such a thing. Luckily we got our things back ashore and nothing was damaged seriously, all we got was a few bruises.
We had lifted our stuff ashore so that there would be no problem even if the water rose. Or at least that is what we thought. The water rose even more and we ended up losing the other wheel of our trolley to the current. Well, by that time I already knew the drill. I even hadn't even managed to put my clothes on after the first swim. I never would have guessed the day before that I'll end up swimming in Arantilankoski -twice.
After all the hassle we finally got our gear back together and decided to continue to Pori. There was still one rapid in the way, namely Ruskilankoski. We figured that it must be already safe to go through the rapid since the water was so high. Now that I think of it, there was no basis whatsoever for this assumption, but that's what we thought. And through we went. And may I say, it was freaking awesome! No rocks on the surface, but waves reaching over a meter getting us totally wet. I'm sorry I have no photo, but at the time I was quite busy gripping my paddle as hard as I can and almost crapping my pants.
The rest of the trip was easy, the current was significantly stronger than on previous days. Thanks to the nice guys at the power company controlling the hatch, we were traveling some two kilometers an hour faster than normally.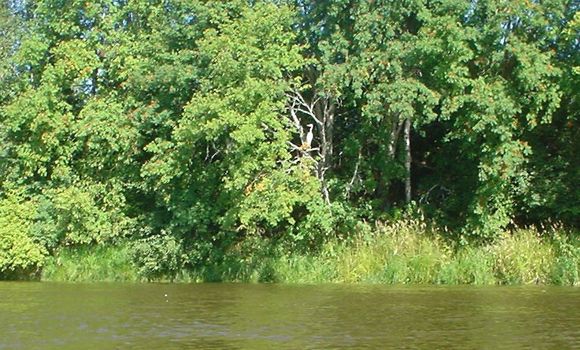 We took a short stop at the nice looking town of Ulvila, which provided nice facilities for kayakers, boaters and other visitors. There was even this info sign telling us about the nature of lower river Kokemäki, it stated that Nakkila is well known for its rapids and you should only go there if you are experienced. I'm glad that they told us only afterwards, otherwise I would have never dared to experience all these nice things.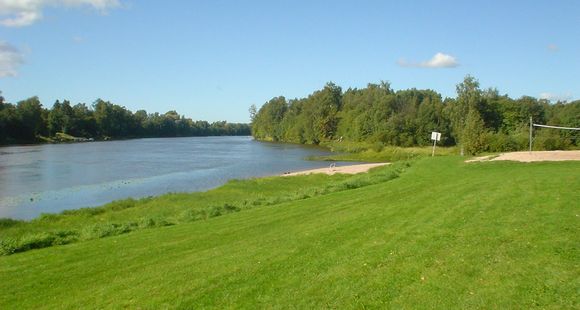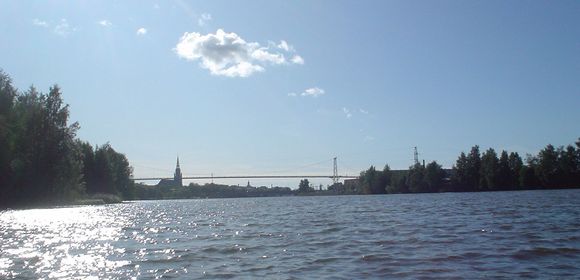 Afterword
At Pori and in the car on the way back home both Antti and I agreed that the travel got better towards the end. The point where it really became interesting was when we didn't really know what to expect. River Kokemäki isn't surely the wildest of the wilderness, but for us it was really exploring. Looking at some animals guessing what they are, trying to navigate your way through the mist in freezing cold and fearing like hell in the rapids.
I guess I'll end this by quoting John Lennon: "Life is what happens to you while you're busy making other plans."
Night trip to Harmaja, July 10th 2009
One evening I decided to go out jogging a bit. At that time I didn't really know what to expect. I didn't really jog that far before I noticed a bunch of friends playing ultimate in a park. After an hour or two of playing it started to get a bit dark and some people started assembling some BBQ equipment. At that time I came up with an idea: "who wants to kayak to Harmaja?" A moment later I was already assembling some gear with a friend of mine. Clock was about 22.30 at the time. I had never visited Harmaja (A lighthouse and a pilot station in front of Helsinki) before but I thought there's a first time for everything, right?
The trip took something like five hours, total distance was a bit over 26 km. You can check out the route here. Even though the trip from the nearest island to Harmaja was something like 3,5 km and there was basically no islands, birds or anything but sea to look at it was nice. Full moon, no clouds wind speed at some 5 m/s and very mild waves. I recommend it to everyone, the best spontaneous kayaking trip I've taken so far.
Harmaja itself was a strange place, almost spooky and frightening. As we arrived there we noticed there's some kind of a command tower, some radars and a bunch of pilot boats. In the command tower there were lights on, as well as in the wharf area but no one could be seen. Aside from the sounds of waves hitting ashore and a bunch of terns trying to protect their nests from us it was totally quiet.
After struggling a while to get the kayak ashore on the slippery rocks we took a little sight-seeing tour on the island. Nothing, not a soul. Only the lights on in the pilot station. There we were circling the place, with terns looking at the place: lighthouse, some old turret mounts and bunkers and some other concrete structures which were obviously built there back in the days for some military purposes. As we circled around the small island we even noticed this sign: "Luvaton rantautuminen kielletty -SLMP", roughly translated: "It is forbidden to come ashore without a permit -SLMP". I wonder who is SLMP and why they don't want us ashore at Harmaja. Perhaps it's some pilot organisation that just doesn't want the general public to know that they're just slacking off at Harmaja. Go figure.
Due to the obvious darkness, there are hardly any decent photos. You can look at me having some snacks at Harmaja, if it makes you feel any better, though.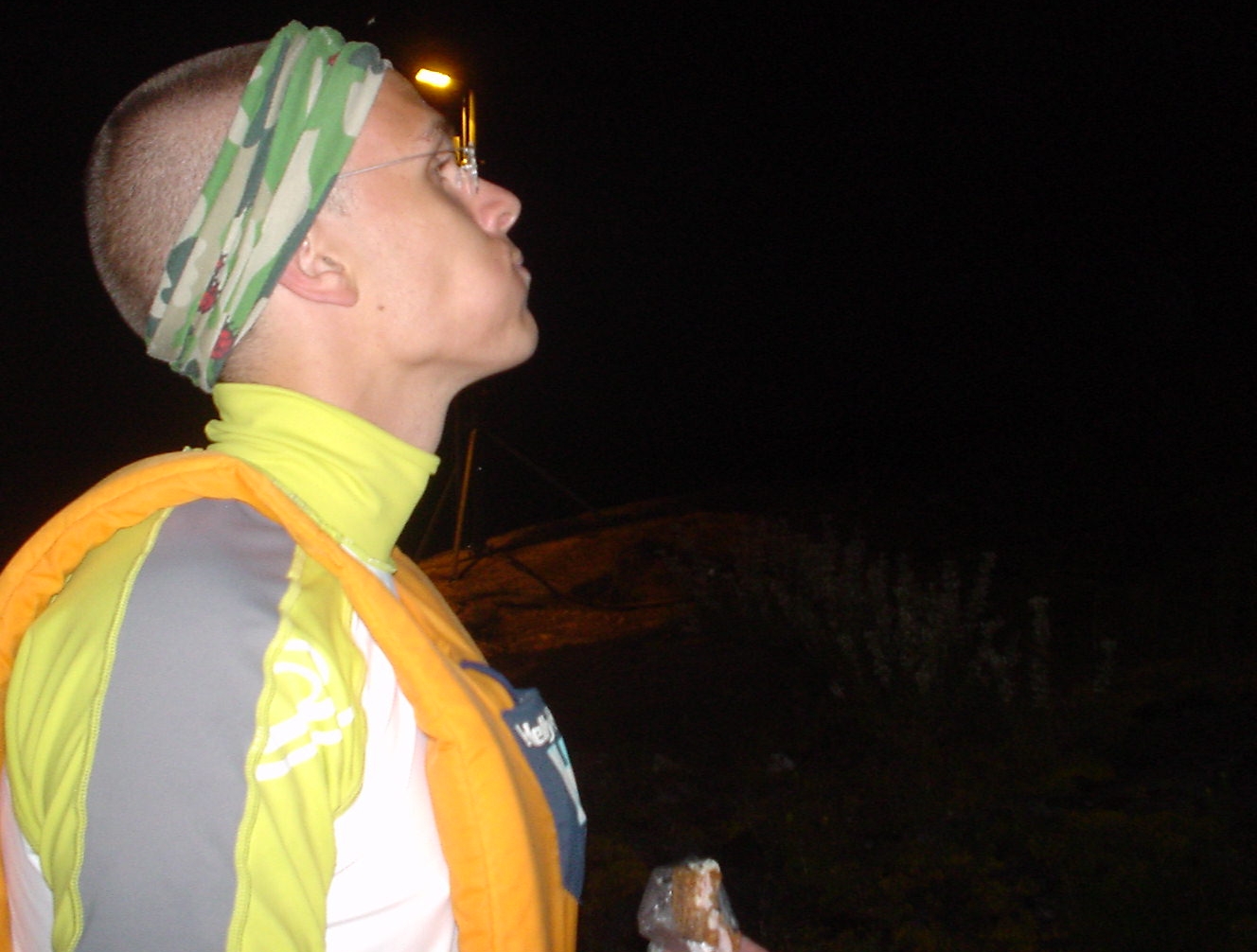 Some pics from trip to Suomenlinna on June 22nd 2009
I looked out of the window and so did a pal of mine. The weather seemed so nice that there was only one conclusion to be drawn: let's go kayaking. I was lucky to notice that the ugly-as-hell capital of ours does not seem that disgusting if you focus on the right things instead of the concrete bunker architecture. The following photos are taken on a trip to Suomenlinna. The path taken can be seen here.
Enough with the BS. Here are the photos.
Images are placed on a separate server for practical reasons. If you do not see them, I've probably started fixing something that wasn't broken in the first place. In that case, please be patient and try again at a later time. The images you currently see are scaled down a bit. You might want to perform some magic on your browser to see them in their original size.
There is also some related stuff for the interested here.
This page was last updated on 3.9.2009